The luxury home of your dreams
Estate and semi-estate homes were initially introduced to Forest Heights as part of its first stage of development. These impressive homes set the stage for the community and welcome visitors and community members alike.
All estate and semi-estate homes have either an attached double or triple car garage. Large double and triple car garages are appealing for homeowners as many people who make their home in Beaumont want the extra space to store additional vehicles, ATVs, boats, children's toys and recreational items.
Often, those wanting an estate or semi-estate home are ready to build their dream home and want to enjoy the custom and executive features and finishes these luxury homes offer. Semi-estate and estate homes can be crafted in a variety of layouts and floorplans to suit the needs of discerning buyers. Two-story homes, bungalow homes and everything in between can be built on semi-estate and estate lots, which offer building pockets ranging from 40 to 44 feet wide.
If you're ready to make the exciting leap of building and customizing your ultimate dream home, build an estate home in Forest Heights today.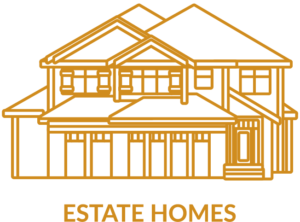 Estate homes in Forest Heights
Estate lots in Stage 2A/3B are in an established area of the Forest Heights community and can be built on by any of our community homebuilders. They are also available for public lot sale. These lots are located on a quiet street and are ready to build on today.
Stage 9 is the jewel of Forest Heights and presents semi-estate and estate lots backing onto the established forest that the neighbourhood is known for. There are a variety of lot types in stage 9 – walkout lots, at-grade lots and pie-shaped lots are available for your next dream home.
Spacious, private backyards and large square footage gives you unlimited options for customization and building your own luxury lifestyle.
The Forest Heights community
Sometimes the downside of building an estate home is your distance from amenities. In Forest Heights, you'll really feel like part of a community — located right by the heart of the action in the town of Beaumont, your estate home is near grocery stores, shopping, restaurants, recreation centres and schools.